Netumo requires you to create a monitor in order to start monitoring your website. For faster monitor creation, Netumo has the Create Monitor simple view that has a subset of criteria for creating a monitor.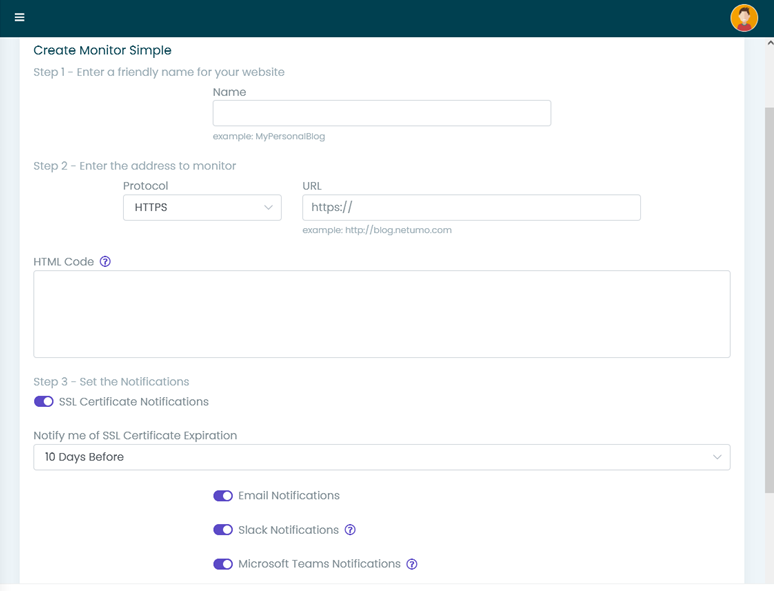 Firstly, enter the monitor's name of your choice.
Then choose the protocol, whether it is HTTP or HTTPS.
Enter the URL of the website such as http://blog.netumo.com. Make sure that the website URL given is a valid one. However, nothing to worry about, if the website URL is not valid the data field border will change to red and there will be a message as shown below.

4. Enter a part of the returned content from the website. This can be just 1 word or a small part of the HTML code. This content will be matched each time the monitor is checked. If unsure you can leave this as blank for now.
5. Step 2 will enable another option to enable SSL Certificate monitoring and notifications.
6. If you choose to turn on this option, you have to specify when Netumo will notify you about your SSL certificates expiring. The options are either on the day or 1,2, 5, or 10 days before SSL Certificate gets expired.
7. You are also required to choose which applications you wish to get notified on, either on email, Slack, Microsoft Teams, Telegram, or Twitter. You need to follow Netumo (@netumodotcom) Twitter account to receive Notifications there. For more information on setting up Slack, Teams, or Telegram please see the Notifications Integrations chapter.
If you are on our free plan, you can only add up to 1 website monitor. Thus, to add more than one monitor, you must subscribe to one of our paid plans.
8. Finally, click on the 'Create Monitor' button when you are finished creating your new monitor.